Designing Hong Kong initiated the idea of Hong Kong Island Coastal Trail – a recreational circulation network around Hong Kong Island. For the past three years, The Division of Landscape Architecture at the University of Hong Kong has been exploring how the trail could be a catalyst for larger transformation around the island.
Exhibition
Date: March 11th – April 10th
Time: 10am – 8pm
Venue: S313, 3/F, Block A, PMQ, 35 Aberdeen Street, Central
Studio Instructors: Bin Jiang, Michael Kokora, Chao Ren, Susanne Trumpf, Ivan Valin
Curators: Susanne Trumpf & Madison Appleby
The exhibition is a showcase of three years of work by master's students in the Division of Landscape Architecture's first year core design studio. The proposed pedestrian trail became a catalyst to imagine a more connected, more accessible, more equitable, more ecological, and healthier city. The studio focused on the relatively overlooked areas along the island's less-developed southern and eastern coastlines, engaging in a diverse range of urban and natural landscapes.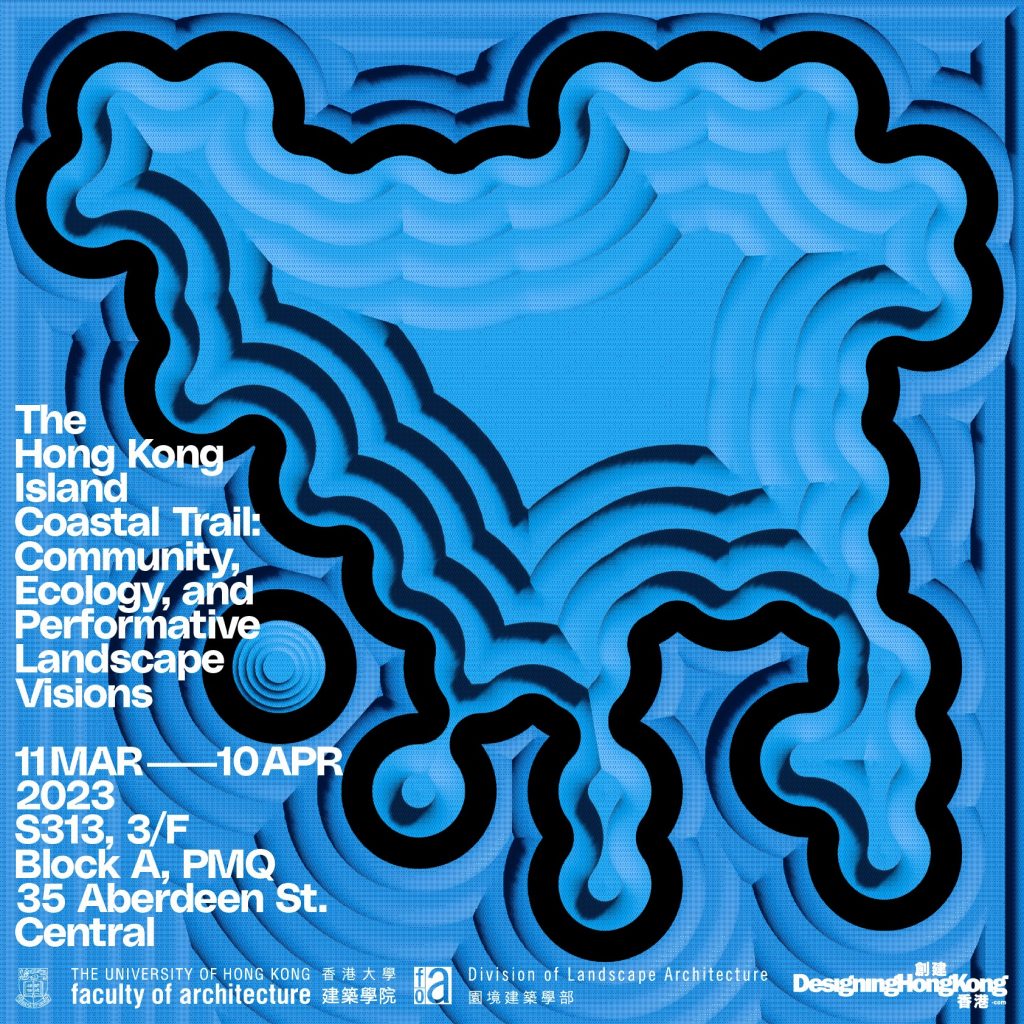 Panel Discussion
Date: March 31st
Time: 6:30pm – 7:30pm
Venue: S710-711, 7/F, Block A, PMQ, 35 Aberdeen Street, Central
With panelists from different parties and expertise, the panel discussion will discuss the goals, ambitions, and possibilities a Coastal Trail could enable around Hong Kong Island. Four topics will be discussed in the panel including:
Community & Equity – How can the Coastal Trail promote community growth and equity?
Form & Materiality – What are the identity or language the Coastal Trail have?
Biodiversity & Ecology – What is the potential of the Coastal Trail with respect enhancing the unique ecosystems on Hong Kong Island?
Global Warming and Sea Level Rise – Can the Coastal Trail be a catalyst for a more adaptable Hong Kong?
Panelists:
Paul Zimmerman (CEO Designing Hong Kong, Southern District Councillor,)
Peter Ferretto (Associate Professor, CUHK)
Debra Tan (Director, China Water Risk)
Michael Chan (Trail Runner)
Ivan Valin (Head Division of Landscape Architecture, Associate Professor of Practice HKU)
Bin Jiang (Associate Professor in Landscape Architecture HKU)
Michael Kokora (Adjunct Associate Professor HKU)
Chao Ren (Associate Professor HKU)
Suzanne Trumpf (Senior Lecturer HKU)